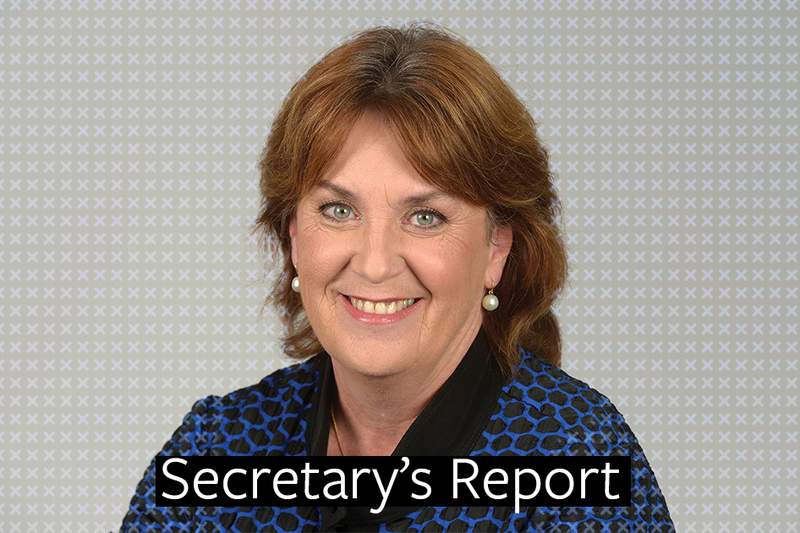 More than 30 pandemic months and counting have unfortunately dominated this government's term and the work of the ANMF. Despite this requirement to manage and respond to COVID-19, election commitments have either been delivered or progressed.
It hasn't been perfect. But it's the government's willingness to listen and respond to nurses and midwives that has set it apart from other state and territory governments. That doesn't mean it hasn't been gruelling for nurses and midwives, or that it has been able to fix everything.
Ratios
For those members who marched up Bourke Street to Victorian Parliament House in November 2011 and walked out of hospitals in early 2012, the battle to save ratios is never far from our minds. Prior to the 2010 election, the Baillieu Coalition promised ANMF members it would retain public sector ratios. After the election, the Baillieu/Napthine Government waged a six-month industrial war against public sector nurses and midwives to abolish the mandatory, minimum staffing levels. It's why the Andrews Government's two Safe Patient Care Act 2015 amendments, passed in 2018 and 2020, are so important. These new and improved ratios have been steadily implemented since March 2019 and will be finalised by March 2023. Furloughing and pandemic burnout have temporarily disrupted ratios in some wards and units. This will not be permanent.
ANMF will be seeking a third round of ratio improvements from the Andrews Government based on members' resolutions carried at annual delegates conferences.
The Andrews Government's 179 public sector aged care facilities have set the example for private residential aged care employers. Nurses employed in public aged care earn the same as public hospital nurses. They also typically have better shift lengths, rosters and legislated nurse/resident ratios. These conditions have contributed significantly to protecting public aged care residents from COVID-19. The majority of Victoria's 1284 resident deaths occured in private aged care, where many operators have continued to cut nursing staff and reduce their hours.
Mental health
As promised, the Andrews Government established the mental health royal commission in its first 100 days. It has responded to the recommendations with a sense of urgency, a 10-year implementation plan and a record $5.2 billion. The ambitious reforms will change mental health nursing and allow members to provide preventative and recovery-orientated care. Nurses will be at the heart of a new system with legislation that prioritises consumer care and the safety of the workforce.
Wages
Victorian public sector nurses' and midwives' wages are now higher than their NSW colleagues under the Andrews Government's eight-year wages deal, endorsed by ANMF members in 2016.
These wage outcomes flowed to our private acute members who at times will enjoy wages higher than their public sector colleagues depending on the scheduling of their pay increases. Public sector mental health nurses also secured equivalent pay rises in their 2020-24 agreement.
Meanwhile NSW nurses and midwives continue to campaign against the Perrottet Government for fair wage rises and ratios. Victorian public sector nurses' and midwives' will start their negotiations in late 2023.
Full-time public sector nurses and midwives, who worked with COVID patients during last summer and winter, have had the potential to earn more than $10,000 in surge shift allowances and winter retention payments. While it will never be enough to compensate for what the pandemic has thrown at the workforce, the Andrews Government was the only government in the country to pay a per-shift surge allowance for 25 weeks between October 2021 and March 2022. Full-time public sector nurses and midwives working eight-hour shifts earned an additional $3600/$7200 (depending on zone) or $8640 if you worked 12-hour shifts ($90 per shift) in a COVID zone. Many private sector nurses, caring for public COVID patients, also received the surge allowance from early 2022.
Student employment programs
ANMF members' 'Respect our Work' 2011-12 EBA campaign stopped the Baillieu/Napthine Government's plan to substitute nurses and midwives with health assistants as part of ratios. Instead of introducing a 'third-level' worker, a first-term Andrews Government began trialling the nursing student employment model – above ratios. When the pandemic started, there were six health services employing Registered Undergraduates Students of Nursing (RUSONs). Today RUSONs are employed at more than 60 health services and the employment model has expanded to midwifery and mental health nursing students.
Supporting nurses and midwives
The Victorian Nursing and Midwifery Health Program (NMHPV) provided free and confidential support to the workforce since it was co-founded by the ANMF in 2006. The Andrews Government recognised the NMHPV's pivotal role during the pandemic and provided an additional $600,000 since August 2020.
Make your vote count
The November On the Record digital magazine will feature the major parties' health and nursing and midwifery workforce policies. Look for it in your email from around Wednesday 9 November.
We know ensuring political parties, when elected, keep their election commitments is critical to our members and the community. When voting in November, please consider not just the party's record of its time in government but also which one has the best-detailed plan for the health system, the nursing and midwifery workforce and your patients, clients and residents.