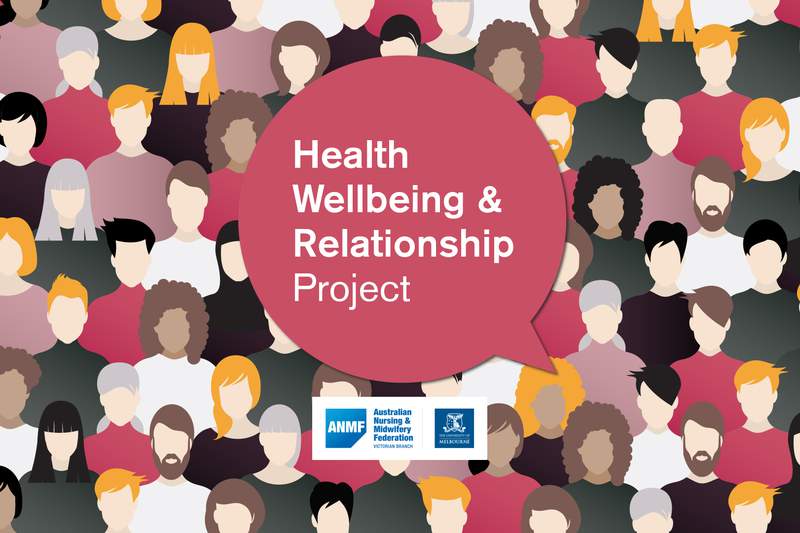 ANMF (Vic Branch) members will soon be asked to take part in a 20-minute online survey to help researchers understand how relationships can affect our health and wellbeing.
The survey, which will be emailed to ANMF members, is a key piece of the Health, Wellbeing and Relationships Project, a collaboration between the ANMF and researchers at the University of Melbourne.
All answers are strictly confidential and voluntary.
Family, domestic and sexual violence is a major and widespread public health issue in Australia. It is a priority issue for the ANMF.
Results from the two-year ANMF-UniMelb research project will help us decide what strategies and policies we might pursue to support and advocate for members who have experienced violence in the family or in close and intimate relationships.
Even if you have not experienced health issues related to your relationships, your participation is still important to us. Hearing from as many nurses, midwives and carers as possible in this survey will help create a strong and more complete picture about people's experiences as well as insights into the kind of resources that may help.
The Health, Wellbeing and Relationships survey will cover a range of questions about your health and relationships, including some questions about family violence, the impact these experiences had on work, and the need for services that might assist. By participating, you will be helping your colleagues like Anna*, a survivor of family violence.
Anna says, "Abuse happens to all women. Powerful women, strong women…For me, I had suffered years of abuse. I was so exhausted from hiding it, covering it up. I was protecting everyone else when the real person who needed protecting was me. The remembering is powerful, it drives me to share the complexities of the stories with other women. It drives me to want to help educate others". [*Anna is a survivor of family violence; her name has been changed to protect her identity.]
Members will be able to complete the survey on any internet connected device, including a smart phone or tablet. We encourage you to take the time to participate, and your participation is voluntary.