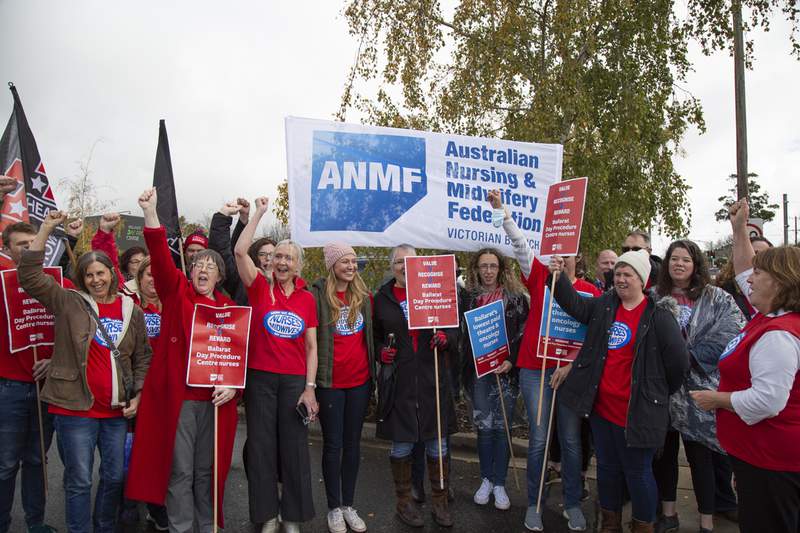 Ballarat Day Procedure Centre nurses – their city's lowest paid day theatre and oncology nurses – have taken industrial action in a bid to improve their wages, entitlements and working conditions, including the retention of a disciplinary clause.
Five months of enterprise agreement talks between ANMF and the centre management's industrial representative reached a stalemate. Ballarat Day Procedure Centre members held stop work meetings and community rallies on 14, 20 and 26 May 2021.
ANMF (Vic Branch) Secretary Lisa Fitzpatrick said industrial action was sometimes necessary to stand up for safe staffing and patient care.
'This is all about Ballarat Day Procedure Centre's ability to recruit and retain nurses so that patients can have their operations and procedures on time,' she said.
Ballarat Day Procedure Centre nurses voted down management's proposed agreement in April because it failed to offer a fair wage rise or backpay. It also removed a classification and the existing disciplinary clause which provides for natural justice and procedural fairness in disciplinary matters.
Management refused to agree to a career structure that recognises its dedicated and skilled nurses.
'The April proposed offer reeked of disrespect for nurses and their patients,' Ms Fitzpatrick said.
She said Ballarat Day Procedure Centre was already finding it hard to fill staff rosters.
ANMF continues to pursue a nine per cent wage increase over 3.5 years, including back pay, to bring Ballarat Day Procedure Centre nurses in line with the nurses employed at Ballarat Health Services and the private sector competitor St John of God. It is also seeking improvements to entitlements such as parental leave and professional development leave, maintenance of the current disciplinary clause and a definition of weekend work.