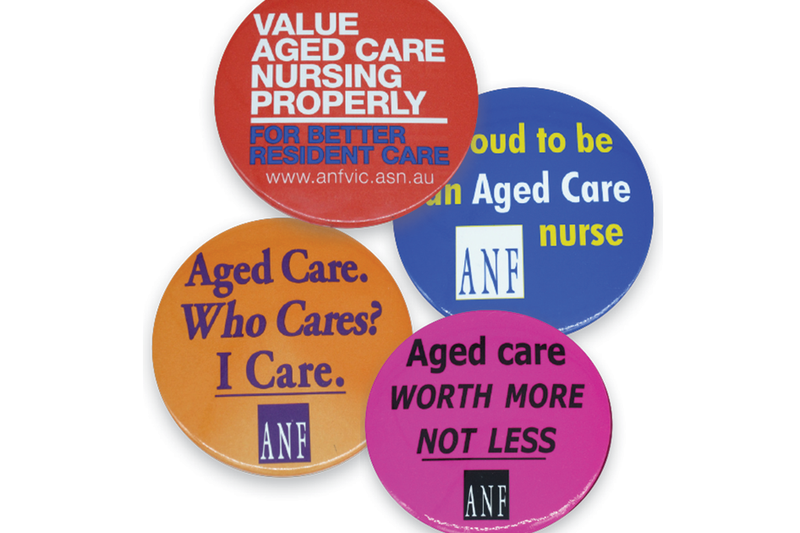 ANMF continues to advocate for legislated staffing ratios in private and not-for-profit residential aged care in a national campaign leading into the upcoming federal election, and at the Royal Commission into Aged Care Quality and Safety.
Our long history of advocating for proper staffing and skill mix in aged care, and respect for aged care nurses, is reflected in our badge collection, which ANMF (Vic Branch) library staff has been digitising and adding to the Victorian Collections website.
This collection of historic badges from the past three decades reveal the history of campaigns for the improvement of wages, conditions, and staffing to attract and retain nurses in the sector.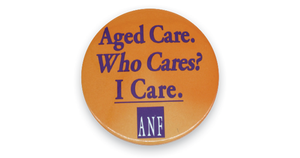 This particular badge is from a 2001 campaign in the lead-up to a November 2001 Australian federal election. The campaign called on the government and opposition to make commitments around aged care staffing and funding. View online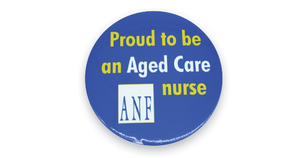 This badge shows the campaign for recognition of aged care nurses, and the fight to be respected with decent wages, conditions and staffing levels. This badge is from the early-mid 2000s and is evidence of a decades-long struggle. View online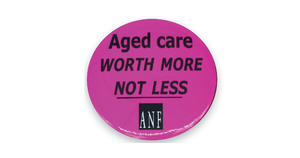 The 'Aged care nurses worth more not less' campaign was run throughout 2005-2006 during private and not-for-profit residential aged care enterprise bargaining negotiations. Claims focused on unsafe staffing levels and an inadequate skill mix of registered and unregistered staff. The claim also aimed to address the wages and conditions disparity between the private and public aged care sectors. View online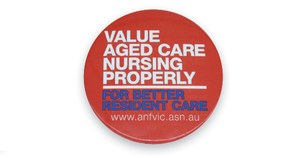 Aged care funding and commitment to workforce improvements were a particular focus of enterprise bargaining for the Victorian Branch between 2006 and 2011, and similar issues formed the basis of the federal 'Because we care' campaign conducted around the same time. View online
Members are encouraged to add their voice to our historical records, by adding comments to the item records at the Victorian Collections website. Other records show badges from the historic 1986 Victorian nurses' strike, workplace-specific campaigns, the long battle to achieve and keep legislated nurse/midwife: patient ratios in the Victorian public health sector, and other campaigns for improved workplace safety, wages, and conditions.
Explore the ANMF (Vic Branch) Library's special collections at: https://victoriancollections.net.au/organisations/australian-nursing-midwifery-federation