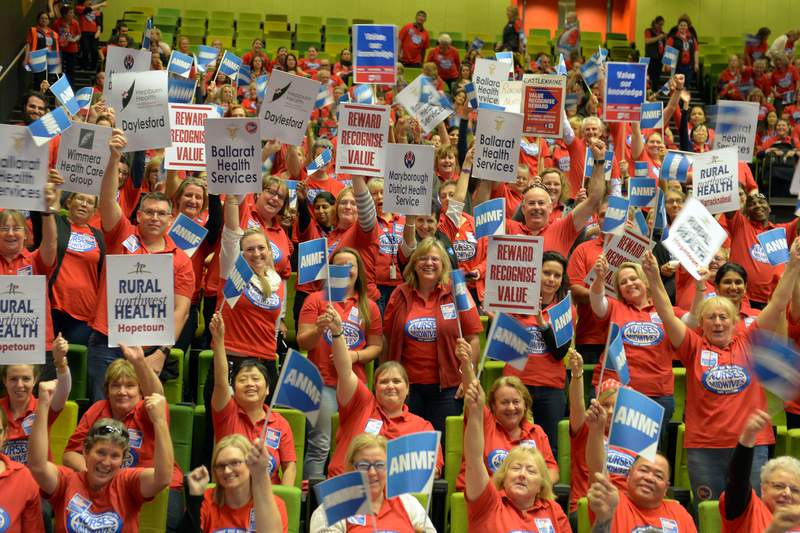 In the first full pay cycle from 1 April, Victorian public sector nurses and midwives can look forward to an historic boost in wages.
Under the 2016–20 enterprise agreement, the April 2019 wage increase will mean Victorian public sector nurses' and midwives' wages will lift to reach net pay parity with NSW nurses and midwives.*
The table below shows 2019 public sector pay rises for some classifications. For all classification rates please refer to Appendix 2 in the enterprise agreement.
Members can also find their individual pay rates on the pay sheets within 'Compare your pay rates' in the 'Members menu'.
Victorian enrolled nurses will receive a four per cent increase in April, having received higher increases than their RN/RM counterparts in the 2012-2016 enterprise agreement, as well as taking into consideration their close relativity with NSW.
Victorian nurses and midwives working in private hospitals have also benefited from the 2016–20 public sector EBA negotiations, with public sector wages setting the benchmark for the private acute sector.
Private sector increases in 2019 vary across employers but the graph below shows Grade 2 registered nurse and midwife top pay points for the public sector will align with those of three key private sector employers by the end of their agreement in 2020.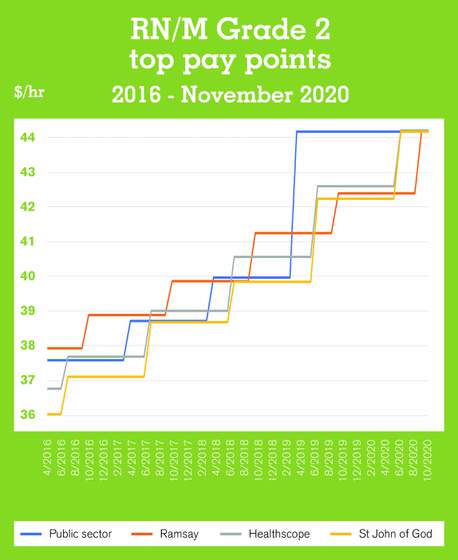 Within the term of the 2016–20 agreement, public sector registered nurses and midwives will receive wage increases between 14.9 per cent and 27.5 per cent.
ANMF (Vic Branch) Secretary Lisa Fitzpatrick said wages of Victorian nurses and midwives deserved to be on par with those of their New South Wales counterparts.
'For this historic agreement we acknowledge ANMF (Vic Branch) members whose strength in numbers have delivered pay parity with New South Wales.
'We also acknowledge the respect of the Andrews Government that is reflected in the 2016–20 enterprise agreement and specifically in one of the biggest pay increases – if not the biggest pay increase – nurses and midwives have seen in Victoria.'
*Net pay parity with NSW is comparing after-tax income for a Victorian nurse or midwife performing the same work while taking full advantage of salary packaging options.
| | |
| --- | --- |
| Victorian classification | Increase April 2019 |
| Grade 2 Year 1 | 3.17% |
| Grade 2 Year 2 | 4.99% |
| Grade 2 Year 3 | 6.65% |
| Grade 2 Year 4 | 8.58% |
| Grade 2 Year 5 | 10.36% |
| Grade 2 Year 6 | 11.89% |
| Grade 2 Year 7 | 13.96% |
| Grade 2 Year 8 | 15.76% |
| Grade 2 Year 9 | 13.07% |
| Grade 2 Year 10 | 10.52% |
| | |
| Clinical Nurse/ Midwife Specialist | 11.77% |
| | |
| GRADE 3A Y1 | 10.69% |
| GRADE 3A Y2 | 10.69% |
| GRADE 3B Y1 | 11.02% |
| GRADE 3B Y2 | 11.02% |
| | |
| ANUM YEAR 1 | 13.81% |
| ANUM YEAR 2 | 15.14% |
| | |
| Grade 4A, Y1 | 9.88% |
| Grade 4A, Y2 | 7.75% |
| Grade 4B, Y1 | 10.83% |
| Grade 4B, Y2 | 8.67% |
| | |
| Nurse Practitioner | |
| NP Year 1 | 15.16% |
| NP Year 2 | 13.23% |
| | |