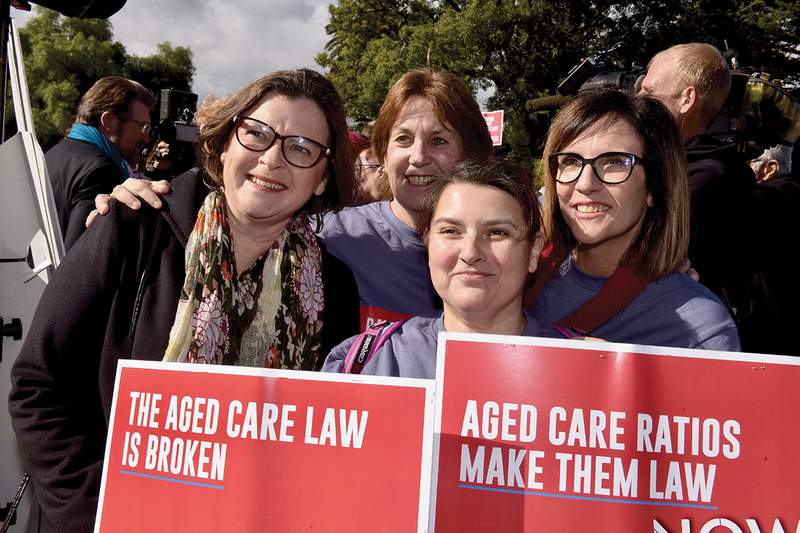 Hundreds of nurses, midwives, personal care workers and community members braved cold weather and the threat of rain for the Victorian launch of the ANMF's national campaign for mandated staffing ratios in aged care.
Former ACTU Secretary, now federal Labor MP for Batman, Ged Kearney, ANMF Federal Acting Secretary Annie Butler, and Victorian Senator Derryn Hinch, joined ANMF (Vic Branch) Secretary Lisa Fitzpatrick in calling on the Turnbull Government and the Federal Opposition to stand up for the vulnerable and elderly, and make aged care staffing ratios law.
The launch was held on International Nurses Day, 12 May, in Queens Park, Moonee Ponds, the heart of Federal Opposition Leader Bill Shorten's Maribyrnong electorate. The ANMF is urging the Federal Labor Party to support mandated aged care staffing ratios in the lead-up to the next federal election.
Ms Kearney, who was also a previous Federal ANMF Secretary, praised ANMF members who 'always stand up for what is right'.
'You come out on a cold blustery morning like this to fight for aged care,' Ms Kearney said. 'To fight for the wonderful people we care for in aged care.'
'It's worth it!' an aged care nurse responded. 'It is worth it,' Ms Kearney said. 'And this is what so many politicians just don't get.
'For so many people, they look at aged care and say "Billions and billions of dollars. Where are we going to get billions of dollars?"
'But we look at aged care and we see the wonderful people we care for, who deserve dignity in their older age, the people who deserve to have a decent meal every day, who deserve to have decent hygiene, who deserve to have their wounds cared for, who deserve to get their medications on time and correctly administered, who deserve a tender loving hand every now and then.
'And you know, sure, it costs money to do that. But you know what? As someone just yelled out, it's worth it.'
Ms Kearney chastised the Turnbull Government for ripping billions of dollars out of aged care and guaranteed that she would be a voice for nursing home residents in Federal Parliament.
ANMF (Vic Branch) Secretary Lisa Fitzpatrick thanked the crowd for coming along to push for staffing ratios to address the 'parlous state of private aged care'.
She said the introduction of legislated ratios in the Victorian public healthcare system had not been 'the end of the world'; they had ensured better and safer care.
'And no-one deserves that more than the people who have served this country (and) paid their taxes for decades.'
Ms Butler said that the aged care crisis must be fixed 'because a carer cannot continue to wash, feed, mobilise 16 residents in just 45 minutes and because a registered nurse cannot continue to manage the total care of more than 70 residents, or more than 100, or as happens in some states, more than 200 residents.
'And because relatives can no longer watch their elderly loved ones suffer. Nurses and carers working in aged care are doing their very best but it's close to impossible to provide the care they know their elderly residents need.'
Senator Derryn Hinch has introduced legislation for staffing ratios in aged care to Parliament but has won little support from fellow MPs. Senator Hinch, who was jailed for contempt of court during his previous career as a radio presenter, told the crowd that in prison he ate better food than residents of aged care facilities.