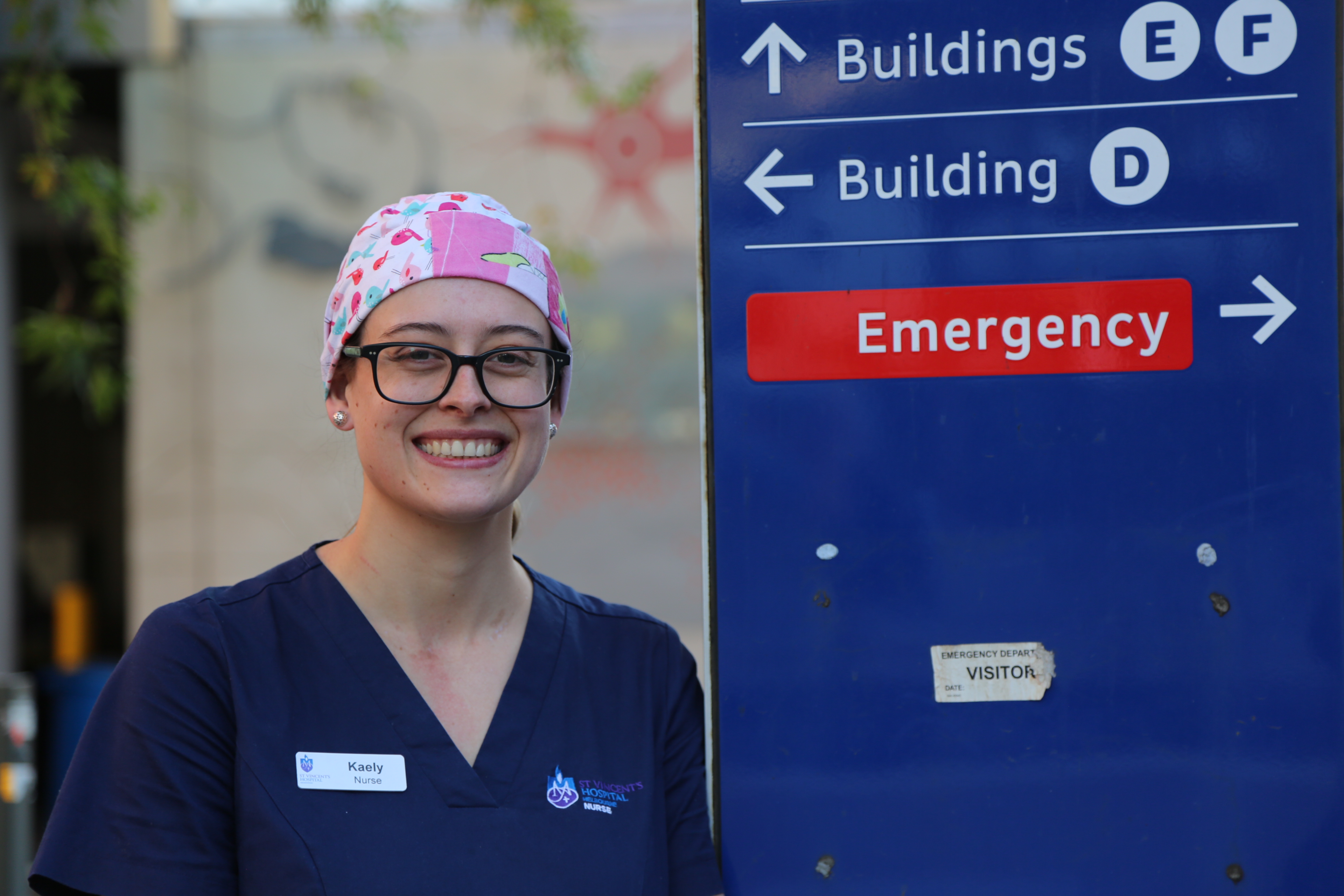 Kaely Kennedy's career aspiration to become a vet changed rapidly in her final year of school when her mum was hospitalised with a serious illness.
For the year that nurses became part of Kaely's world as a young woman with an unwell mother, she discovered what a difference nurses make to patients and patients' families. She began studying nursing the following year.
Kaely's mum is now in good health and Kaely is nursing at St Vincent's Hospital emergency department, having graduated from a combined paramedic/nursing degree at Monash University in 2016. Kaely was chosen to undertake the hospital's emerging leader program in 2018 and has enrolled to study critical care nursing at Deakin University's postgraduate program.
Through the nurses' care for her mother, Kaely was shown the compassion involved in the nursing profession.
'Mum felt they understood where she was coming from. When you've got cancer, it's hard to explain what you're feeling and she said they understood what it was like for her,' Kaely explained.
'Nothing was too big for her to ask of them. They would just do it for her because they wanted to keep her comfortable.'
The nurses also provided support to Kaely, her sister and father.
'We didn't even know them and they offered for us to talk to them if we needed anything, they were always offering us food and drink; they were always looking out for us even when they didn't have to,' Kaely said.
Although it is the nurses' seemingly bottomless well of compassion and support that Kaely remembers from her experience as a patient's loved one, as a nursing student, Kaely began to appreciate the clinical complexities of the role and the advocacy involved in nursing.
'I realise now you spend so much time at that patient's bedside; you're the advocate for pain relief, nausea medication, all of it. The doctor wouldn't know any of that unless the nurse had come forward saying "My patient is complaining they're in a lot of pain. She's had this and this. This might be another good option",' Kaely said.
'It's not just holding hands. You suggest things that you think are going to be best for the patient. You advocate for your patient and that's a big part of the job'.
Within her professional development year, Kaely learned advanced life support, to be able to manage medical emergencies in the field independently and administer cardiac medications like adrenalin and amiodarone. The program also involved initiating pathology tests and x-rays.
To be able to give doctors blood test results and x-rays when they first see patients saves precious time in an emergency department.
Kaely is an Aboriginal woman with ties to the Taungurung clans through her great-great-grandfather John Franklin. Although Kaely grew up in Ferntree Gully, her family are originally from the Yea area, where the Franklin Walking Track commemorates her ancestor. Kaely is proud to have her handprint pressed for posterity in the concrete of the track.
Kaely's immediate family tries to get to Yea every month or so to walk the track with their extended family.
When Kaely began her employment with St Vincent's Hospital, she was introduced to other Aboriginal nurses, as well as to the Aboriginal liaison officer whose role involves providing support to Aboriginal patients.
Having been in the unusual position of being an Aboriginal woman receiving education about Aboriginal culture while studying nursing, Kaely attests that the information she received was broad and could lead to generalisations about the views of Aboriginal patients. She encourages nurses and midwives to keep adding to their knowledge of Aboriginal culture but treat Aboriginal patients as individuals.
Kaely's eventual aim is to become an educator, teaching nursing at university. By then, the nursing and midwifery curriculum may include more extensive education about Aboriginal culture and history, and cultural safety.
'It needs to be deep-seated in education, I believe,' Kaely said.