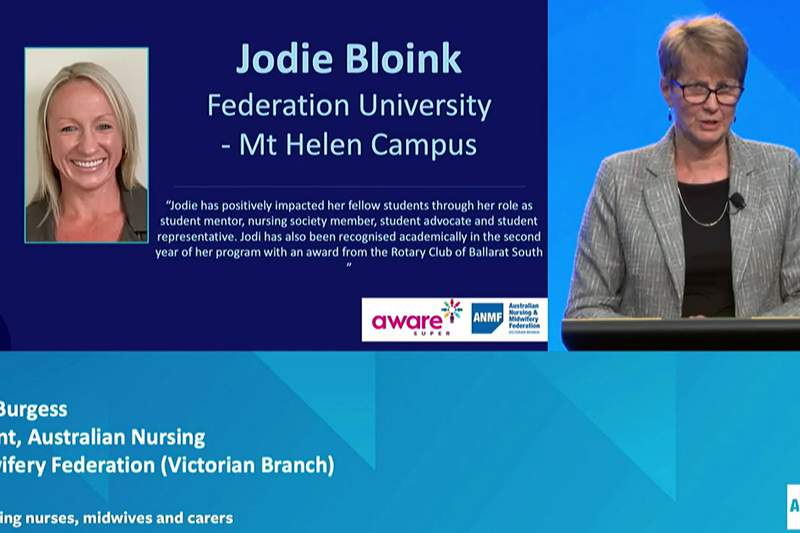 While the COVID-19 pandemic has resulted in event cancellations, thanks to technology our annual student awards proceeded online.
Fifty-six nursing and midwifery students were awarded a 2020 Aware Super/ANMF (Vic Branch) student award as part our Annual General Meeting on Thursday 10 December.
Students were nominated by their institutions for their results and personal attributes such as diligence, leadership, communication skills.
Branch Secretary Lisa Fitzpatrick noted the difficult circumstances students faced this year with disruptions to their personal and academic lives due to the COVID-19 pandemic.
'2020 is the international year of the nurse and the midwife. None of us appreciated what sort of year it would be.'
'All of these students have demonstrated outstanding commitment to their studies, and they've done so during this extraordinarily difficult year to complete their studies.'
'Some students also made us proud – juggling these pressures working as Registered Undergraduate Students Of Nursing (RUSONs) in health services and in pop-up testing clinics.'
'We welcome you all to the profession and feel confident the nursing and midwifery professions are in good hands.'
Melissa Bodycoat, Manager Strategic Partnerships at long-time award sponsor Aware Super said that the awards were important for encouraging the next generation of nurses and midwives.
'For many people, the decision to be a nurse or midwife is so much more about the need to 'do good' for the community than the want to be praised by the community.'
'At Aware Super, we know how much the decisions at the beginning of your career count, which is why it is so important to show this next generation that they count from the very beginning.'
Congratulations to all recipients.
Recipient list
Diploma of Nursing
Alana Mamser – Skills Training Australia
Alka Jha – Victoria University Polytechnic – St Albans
Amelia Sinkinson-Lindsay – The Gordon Institute of TAFE – Geelong
Benjamin Turner – ACU College Ballarat – Aquinus
Birgit Valerie Vuckovic – The Gordon Institute of TAFE – Werribee
Brooke Jeffery – TAFE Gippsland – Warragul
Claire Leavold – Goulburn Ovens Institute of TAFE – Benalla
Eboney Myriah Wolk – Wodonga Institute of TAFE
Emma Parry-Tuckerman – Bendigo Kangan Institute – Moonee Ponds
Faustina Sakyi – Institute of Health & Nursing Australia (IHNA)
Gurwinder Kaur – Chisholm Institute of TAFE – Berwick
Inna Coleen Javier – Job Training Institute
Isaac James Black – Goulburn Ovens Institute of TAFE – Wangaratta
Jackie Borozan – Victoria University Polytechnic – Werribee
Jane Crowe – Partners in Training Australia – Shepparton
Jayde Di Blasio – VFA Learning
Karen Claffey – South West Institute of TAFE – Warrnambool
Kelly Wolfe – TAFE Gippsland – Leongatha
Maggie Frith – TAFE Gippsland – Morwell
Megan Hodgetts – South West Institute of TAFE – Hamilton
Naen Falla – TAFE Gippsland – Bairnsdale
Nicole Waight – Chisholm Institute of TAFE – Frankston
Rosslyn Fennell – ACU College – Melbourne
Sarah Deal – Skills Training Australia
Sharna Cummins-Hamilton – Goulburn Ovens Institute of TAFE – Seymour
Siva Manikanta Reddy Velagala – Australasian Lawrence Aged Care College (ALACC)
Somayeh Bekyas – RMIT University – Bundoora
Steven Comer – Bendigo TAFE
Tara Matthews – Sunraysia Institute of TAFE – Swan Hill
Tracy Cunico – Partners in Training Australia – Sale
Tyler Letiese Ayars – Sunraysia Institute of TAFE – Mildura
Yingyi Wang – Swinburne University of Technology – Wantirna
Bachelor of Nursing
Angus Sandford – La Trobe University- Mildura
Cameron Damster – Swinburne University of Technology – Hawthorn
Claudia Bryan – La Trobe University- Albury Wodonga
Erica Prowd – Monash University – Peninsula
Eva Belle Gauci – La Trobe University- Shepparton
Irene Kelly – National Indigenous Knowledges Education Research Innovation (NIKERI) Institute
Jessica McLean – RMIT University – Bundoora
Jodi Bloink – Federation University – Mt Helen
Johanna Dobson – Deakin University – Burwood
Keith Dwyer – Monash University – Clayton
Marcus Rosse – Federation University – Berwick
Melinda Di Natale – ACU – Fitzroy
Mon Torio – Deakin University – Waterfront
Rachel Schreuder – Federation University – Gippsland
Rebecca McCullough – Deakin University – Warrnambool
Stacey Rigney – La Trobe University – Bundoora
Tara Mackay – La Trobe University – Bendigo
Bachelor of Midwifery
Rowena Coe – ACU – Fitzroy
Bachelor of Nursing & Midwifery
Amelia Annaliese Fox – La Trobe University – Bendigo
Aoife O'Sullivan – Deakin University – Warrnambool
Chiara Caruana – Deakin University – Waterfront
Hannah Humphries – Monash University – Peninsula
Jessica Williams – Deakin University – Burwood
Master of Nursing Practice
Amy Laura Stone – Monash University – Clayton